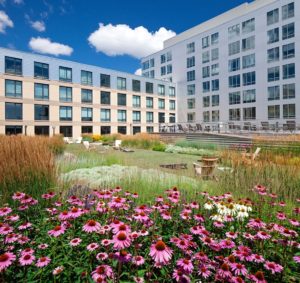 Ink Block Boston is a vibrant mixed-use community built on the former home of the Boston Herald newspaper, a 24-acre, six-block area bordered by Washington, Albany, Herald and Dover (now East Berkeley) streets in Boston's South End neighborhood.
Above it all are 315 apartments in three unique and distinctive buildings. Outdoor space includes well-landscaped gardens, decking and seasonal pool which is perfect for hosting small to mid-size parties. Contact the event planners at Above and Beyond Catering to make your event as fresh and distinctive as Ink Block! We're specialists in creating unique and one-of-a-kind parties in Boston.
Ink Block Boston's outdoor space is resident use only for events at this time.
Ink Block Boston | 300 Harrison Avenue, Boston, MA 02118