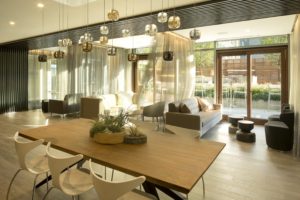 TROY BOSTON is located at the gateway between Boston's South End and South Boston neighborhoods.
The building was constructed by Gerding Edlen following their Principles of Place guide: creating vibrant, inspiring and sustainable spaces where people can work, learn and live. Gerding Edlen created the Livable Place Index™ to measure the global impact that sustainable buildings and their occupants have on energy, air, and water.
TROY BOSTON is designed to operate 25% more efficiently than a code-compliant building. Its electricity co-generator also produces 100% of the building's hot water and 54% of its heat. The landscaping on the focuses on native, adaptive plantings. TROY BOSTON features rooftop terraces with barbecues and fire pits
and a rooftop lounge with demonstration kitchen.
TROY BOSTON is conveniently located off of Interstate 93 and the MBTA Red line Broadway Station.
TROY BOSTON | 55 Traveler Street, Boston, MA 02118