[rev_slider alias="herocorporatesummer2″]

Seasonal Corporate Event Planning
Company Outings and Office Events
Let Above and Beyond Catering cater your next corporate event or summer company picnic. We make corporate catering exciting for the whole office! From boxed lunches and afternoon energizers to executive dinners and holiday office parties, we stop at nothing to ensure the success of your catered event and the satisfaction of your taste buds. Above and Beyond Catering is an experienced and professional full service caterer with over 20 years experience.
Above and Beyond Catering promotes the highest level of hospitality and service for their guests. Companies of all sizes trust our professionalism and service, and, of course, our crowd-pleasing food. When combined with its fresh and vibrant menus, it is no wonder Above and Beyond is one of Boston's most trusted caterers for businesses of all sizes.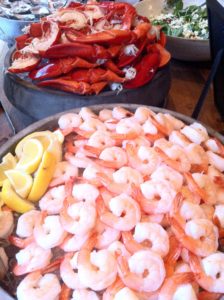 A Taste of Summer at Work
Hawaiian luau by the banks of the Charles River? Open air picnic in Burlington? Classic backyard barbecue with vegan burgers and gluten free brioche buns?
Whatever your corporate catering needs, our chefs and kitchen staff create the most memorable experiences using the freshest ingredients that will keep the water-cooler conversation fresh for days. Our menus are carefully designed for every taste bud and food preference whether a corporate lunch buffet or office picnic or simple boxed lunch.
Jump start those brainstorming sessions with an inspired menu of homemade strawberry pop-tarts and savory sausage timbales. Refresh the office environment with our crunchy luncheon salads and wholesome sandwich wraps found in our boxed lunches. Or give the office a day at the beach with a corporate clambake featuring fresh Maine lobster, little neck clams and grilled corn on the cob or a classic summer barbecue right at your facility!
Get your creative juices flowing with more of our corporate catering menu ideas.
While we love a great party, we still respect the importance of a bottom line. At Above and Beyond Catering, our planners work collaboratively with you and your budget while delivering the event you envisioned.
Summer Menu Favorites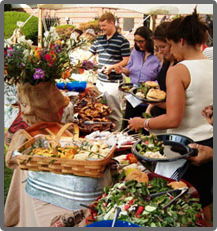 Lobster bake or clambake?
Littlenecks or quahogs?
Quintessential New England questions. However, one thing everyone can agree on is summer is the best time for a morale building. Our menus run the gamut from traditional New England Lobster Bake with fresh seafood raw bar to theme parties like luaus and barbecues. Above and Beyond Catering chefs and kitchen staff come from diverse backgrounds with eclectic tastes and palates. Whether a classic summer barbecue and pig roast or vegan and gluten free picnics, every guest preference will be sensational.
---
Above and Beyond Summer Celebration
PASSED HORS D'OEUVRES:
Confetti Corn Fritters with Chipotle Pepper Aioli
Smoked Chicken Skewers with Peach-Habanera Dip
Grilled Shrimp with Tomatillo Cocktail Sauce
STATIONARY HORS D'OEUVRES:
Tomato, Spinach, and Whole Grain Tortilla Strips with a Hint of Cayenne
Served with Jalapeno Black-Eyed Pea Salsa, Guacamole, and Pico De Gallo
Mini Pulled Pork and Grilled Chicken Sliders
Served with Smoked Hickory Barbeque Sauce
Onion and Poblano Rings
Accompanied by Spicy Tabasco Ketchup
Farm Raised Fried Catfish Bites dusted with Corn Meal and Cajun Spices
Served with Cajun Remoulade and Spicy Tartar Sauce
LUNCH BUFFET:
Memphis Spice Rubbed Baby Back Ribs
Served with Guava Barbecue Sauce and Melon Salsa
Grilled Chicken Breasts, Legs, and Thighs
Served with Carolina Mustard Style Barbecue Sauce
Hamburgers and Jumbo Pearl Hot Dogs
Accompanied by Ketchup, Mustard, Vidalia Onions, Relish, Cheddar, Gruyère, Lettuce, Tomatoes, and Pickles
Served with Toasted Kaiser, Onion and Hot Dog Rolls
Red Bliss Potato Salad
Cabbage and Carrot Cole Slaw
Cucumber Salad
Corn on the Cob with Melted Lime-Cayenne Butter
Bourbon Barbecue Beans
Mesclun Greens, Red Delicious Apple, Toasted Walnuts, and Stilton
Tossed in a Cider Vinaigrette
Sweet Corn Muffins and Buttermilk Biscuits
DESSERT:
Assorted Fresh Baked Pies
Mile High Apple, Peach-Blueberry, and Chocolate Pecan
Assorted Homemade Cookies and Brownies
Sliced Watermelon
BEVERAGES:
Red Wine, White Wine, and
Assorted International & Domestic Beer to Include Sam Adam's Seasonal
Whiskey Sours and Tequila Sunrises
Prickly Pear Lemonade and Sweet Tea with Mint
Assorted Regular and Diet Sodas
Poland Spring Sparkling and Still Bottled Water