corporate catering and events
At Above and Beyond, we make corporate catering exciting for the whole office! From boxed lunches and afternoon energizers to executive dinners and holiday office parties, we stop at nothing to ensure the success of your catered event and the satisfaction of your taste buds. Above and Beyond Catering is an experienced and professional full service caterer with over 25 years experience.
Above and Beyond Catering promotes the highest level of hospitality and service for their guests. Companies of all sizes trust our professionalism and service, and, of course, our crowd-pleasing food. When combined with its fresh and vibrant menus, it is no wonder Above and Beyond is one of Boston's most trusted caterers for businesses of all sizes.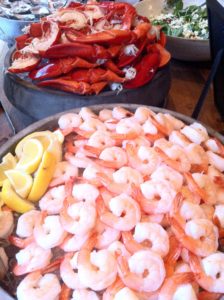 a taste of success
Luau by the banks of the Charles River? Open air picnic in Burlington? Whatever your corporate catering needs, our chefs and kitchen staff create the most memorable experiences using the freshest ingredients that will keep the water-cooler conversation fresh for days. Our menus are carefully designed for every taste bud and food preference whether a corporate dinner or office picnic or simple boxed lunch.
Jump start those brainstorming sessions with an inspired menu of homemade strawberry pop-tarts and savory sausage timbales. Refresh the office environment with our crunchy luncheon salads and wholesome sandwich wraps found in our boxed lunches. Or give the office a day at the beach with a corporate clambake featuring fresh Maine lobster, little neck clams and grilled corn on the cob or a classic summer barbecue right at your facility!
Get your creative juices flowing with more of our corporate catering menu ideas.
While we love a great party, we still respect the importance of a bottom line. At Above and Beyond Catering, our planners work collaboratively with you and your budget while delivering the event you envisioned.