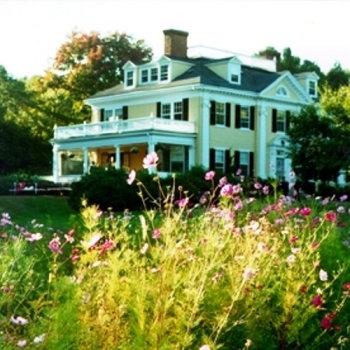 The Pierce House is an elegant Georgian mansion built in 1900 by John H. Pierce (1830-1910). In 1964 the Pierce family left the house and more than 30 surrounding acres of woodlands and rolling lawns to the Town of Lincoln. The architectural design of the front facade is based on the Vassel-Craigie-Longfellow House, which was built in 1759, and still stands on Brattle Street in Cambridge, Massachusetts.
Since 1964, the house has become a unique location for wedding receptions, celebrations, and meetings. It has also been the location for filming television stories and the site for many photographic catalogs.
The Pierce House is a three-story, late-Victorian house, built in the Georgian Revival style—a Colonial Revival style known for its balance and symmetry. The house has two entrances that mirror each other, one that faces a flagstone patio in front of the house, seasonally tented from May to October, and one that leads to a paved rotunda behind the house. The entrance on the front of the house is pedimented while the rear entrance, considered to be the main entrance, has a portico with columns.
The house features a large wraparound porch, perfect for cocktail hours, where guests can look out over rolling lawns and charming gardens, including a field of wildflowers. Located on thirty acres of rolling lawns, woodlands, and wetlands, the house is a lovely venue for events, whether they are held indoors or outdoors.
The Pierce House | 17 Weston Road, Lincoln Center, MA 01773
Reception: 175
Seated: 60
Tent: 80